Kathy Bates became a regular on American Horror Story with the third season, Coven. Now after playing an immortal killer and a bearded lady on Freak Show, Bates is back in the new season, American Horror Story: Hotel.
When Bates met with the Television Critics Association this summer to discuss her role in American Horror Story, Guff asked her about her history of scaring us, going all the way back to her Oscar winning turn in Misery.
Q: Has coming back to horror been significant to you, since one of your breakthrough roles was in a Stephen King movie?
Kathy Bates: I'm a horror movie fan to begin with, so to come back to the genre, I feel like horror has been very good to me.
Q: You already were [a fan] when they offered you Misery?
KB: Yes, I read Stephen King a lot and I've actually played two roles. Delores Claiborne is my favorite, I think, of any film that I've done. So I was a Stephen King fan and I was amazed that I got the chance to play that role and very glad that I did.
Q: Stephen King writes some of the greatest female characters. How do you think he knows women so well?
KB: I have no idea and I think his strongest suit is the characters that he does create, all in the same area where he lives. The way he describes them is one of his fortes and it boggles my mind how he's able to do that and to create so many. It must be thousands by now.
Q: Had you stayed in touch with Stephen King after you did two movies based on his books?
KB: No, I haven't. I ran into him once in New York a few years ago and outside the Carlyle and he said, "You're in the pink." Which sounded so Stephen King. He's doing well I think after his accident and all of that, years and years ago.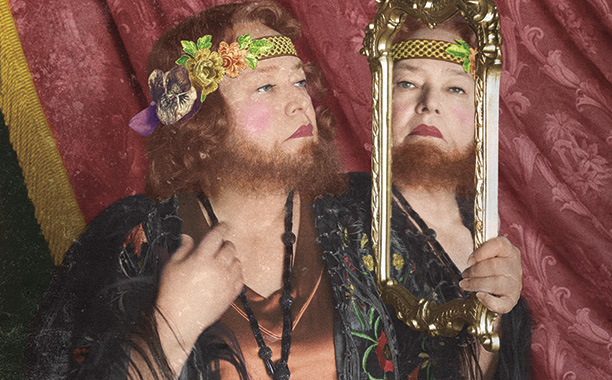 Bates in 'Freak Show'FX
---
Q: What does "in the pink" mean?
KB: "You're doing well. You look like you're doing really well." He's got those great sayings.
Q: Do you cherish when people say they're afraid of you?
KB: I love everything. I love being the empathetic characters. I love being the villains. I think it's like when we're kids, we like to play all kinds of crazy characters and dress up. I think that's one thing that Ryan has really allowed us to do. From the very first time he pitched Delphine to me, I felt [like] this little kid running around the room saying, "Oh, and I want to do this and what if she's upset because there's a black president?" It was just off and running. It's just so much fun.
Q: Are you responsible for some of the body count in Hotel?
KB: I hope so. It would be fun to add to the body count? That would be great. God, I'm only on script three.
Q: Is it a fun set or very serious?
KB: It's fun in the way that it's challenging. I don't know, they say race horses want to run. I feel like that's the way it is. You want to run and you focus on that, you're focused on your lines and you're focused on the blocking and where you have to go and the relationship with the people with you and all those things with creating a whole world. So when you step out there, you have to realize what they've created for you.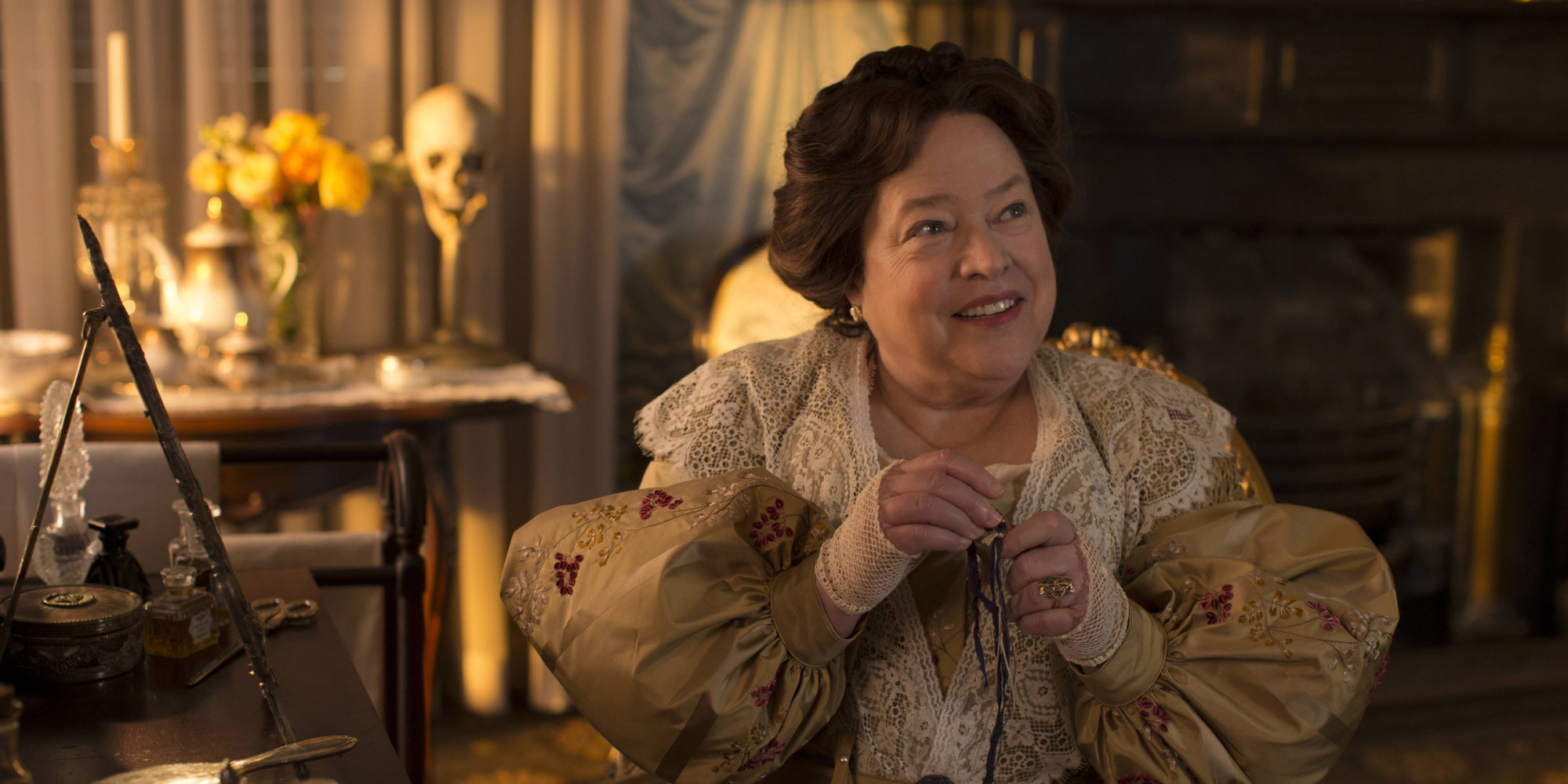 Bates stars in 'Coven' FX
---
Q: If your character is the manager and Lady Gaga is the owner, do you have a lot of scenes together?
KB: I heard I'm going to have scenes with Lady Gaga so I'm hoping it's true. I know of one scene I have. Oh no, I've got a few, that's right. I'm trying to remember now. So yes, I think we'll have some confrontations. I think it's just a tricky relationship, I would say.
Q: Is a show like American Horror Story an actor's dream, to reinvent a new character every season?
KB: Like I said just now, it's so much fun. You hope that the same people are coming back. I love playing with Angela [Bassett]. She's fierce. I met her years and years ago when she was a student at Yale, so to see her do these fierce roles and go on to [be] this powerhouse has just been awesome. Then to get to be on the other side of that is just like playing tennis with the best pro.
Q: What feedback do you get from the audience since being on the show?
KB: They just always say how scared they are. Although when I was in New Orleans, I was in a grocery store and a woman came up to me and she said, "Oh, my daughter's such a big fan of the show." And I said, "Can I meet her?" And around the corner came this seven-year-old. I was horrified and I almost said to her, "Lady, what are you doing? This is not for seven-year-olds, I can tell you." My 14-year-old grandniece is not allowed to watch this yet.
Q: Did you have a period where you were recognized a lot from The Waterboy?
KB: Yeah, a lot of guys come up talking about The Waterboy. I get a lot of that. Misery, Delores Claiborne and The Waterboy, those are the main ones I get.
American Horror Story: Hotel premieres October 7 at 10PM on FX.