I first discovered Starbucks because my girlfriend sophomore year of high school was obsessed with their green tea Frappuccinos and would drag me there on weekends. I watched as my affluent peers clutched their Starbucks cups like pearls and then I would drink my Capri Sun at lunch and be treated like a leper. When I later took a job at Starbucks during my senior year of college, I finally began to understand just how much of a status symbol that cup truly was.
When you rolled up to biology lecture with a venti coffee, you were making a statement. One that said "Hey, I'm a trust-fund baby who has enough money to spend $40 a week solely on caffeinated beverages that provide no nourishment to my body." I wanted in that club of rich kids, and working at Starbucks ensured I was given a free pass.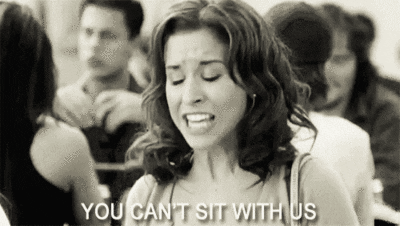 As all stories begin, Giphy
---
The Experiment: For five days, I decided to channel my inner white girl and consume only Starbucks food and drink items for breakfast, lunch, and dinner (except water at home because I wanted to make it out of this alive). What started off as a fun experiment to see just how much this lifestyle would cost quickly devolved into a caffeine induced hell of my own making. Here's what happened.
Day 1: Caffeine Is Awesome!


Breakfast
Bacon Gouda Breakfast Sandwich: (350 calories)
Grande Iced Mocha Latte: (290 calories)


Lunch
Grande Triple Chestnut Praline Latte: (260 calories)
Greek Yogurt with Honey Parfait: (260 calories)


Dinner
Holiday Turkey & Stuffing Panini: (440 calories, sodium: 1280 mg (!!))
Evolution Fresh™ Sweet Greens and Lemon: 50 calories


Mmm? Brandeating.com
---
Total Calorie Count: 1,650

Dear Diary, I swirl the Evolution Fresh juice around my mouth and scribble in my notebook, "Tastes like liquid butt with defined hints of lemon." The holiday panini sort of tastes like a sandwich you would make while nursing your red wine hangover the day after Thanksgiving, in the best way. It also looks like your cat got into a bag of craisins and vomited it onto some slices of bread, but I'm so into it. So far I feel fine, although slightly bloated. I feel alive. Is this what people who drink coffee non-stop feel like? I pay my bills on time, and I even buy matching socks, because what the hell? I feel like I can take on the world. That night, I go to bed slightly later than usual, and I note a minor headache when I wake up halfway through the night.
Day Two: The Day I Was Basic With Abandon
Breakfast
Venti Caramel Brulee Frappuccino: (450 calories)
Greek Yogurt with Honey Parfait: (260 calories)

Lunch
Venti Chestnut Praline Frappuccino: (450 calories)
Spinach Feta Wrap: (290 calories)
Flourless Chewy Chocolate Cookie: (170 calories)

Dinner
Reduced Fat Turkey Bacon Sandwich: (230 calories)
Venti Caramel Frappucino: (400 calories)
Total Calorie Count: 2,250
Dear Diary, Sincere question for anyone who has ever consumed a Frappuccino: have you ever seen how it is made? Have you seen the amount of syrup that you're putting into your body? Also, have you ever let a frappuccino sit out for twenty minutes, then looked at it? It congeals, and definitely doesn't look like something you should put in your body. 
After consuming over 1300 calories on frappuccinos alone, I spend most of this day on a sugar high and basically shake up until 8pm. During this time I contemplate doing other basic things, like taking a hot yoga class or instagramming my manicure. I also feel disgustingly bloated, and every time I sit down for a meal it tastes like the enamel on my teeth is peeling from all the sugar. 
At this point, I decide to buy my food in bulk because in my mind, the baristas at my local Starbucks are beginning to judge me. I rationalize with myself that I'm probably not the first person to survive solely off of Starbucks food but i'm definitely judging myself at this point. I hit my coffee drinking stride by around 5pm and start to care less about drinking water between cups of coffee. I meet up with a friend later at her apartment and she tells me my breath smells like espresso and regret and a few hours later I snap at a lady in line while I wait for my dinner.
Day 3: Things Get Weird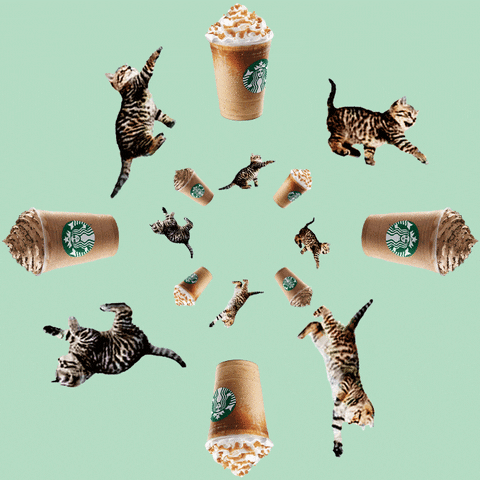 Giphy
---
Breakfast
Slow-Roasted Ham & Swiss Breakfast Sandwich: (490 calories)
Iced coffee with two shots of espresso: (8 calories, roughly)
Greek Yogurt with Berries Parfait: (220 calories)
Lunch
Tomato & Cheese Savory Square: (280 calories)
Chocolate Smoothie: "A nourishing blend of mocha flavored sauce, a whole banana, milk, whey protein and fiber powder" (300 calories)
Pumpkin Cream Cheese Muffin: (350 calories)
Grande Gingerbread Latte: (250 calories)
Dinner
Turkey and Pesto Panini: (480 calories)
Chocolate Croissant: (370 calories)
Grande Iced Caramel Macchiato Calories: (230 calories)
Total Calorie Count: 2,978
Dear Diary, I woke up with what I can only describe as a hangover. A throbbing ache has lodged itself into my left temple that throbs in time with "Blank Space" as I drive to Starbucks to consume my breakfast. By lunch time, I feel like taking a nap and I'm only able to feel alive again once I consume my savory square that tastes like a Lunchables personal pizza box, but toasted. 
I'm starting to feel like a junkie, and everyone keeps asking me if i'm `OK,'  due to the circles that have formed under my eyes. I snap at my roommate for leaving a plate in the sink and then spend until 4 a.m. scouring the depths of Netflix. I know things are getting dark because around 3 a.m. I call my boyfriend in tears after a particularly emotional episode of Dogs With Jobs. I'm fairly sure I'm breaking out from my heightened sugar intake, but everyone around me insists acne can't form that quickly.
Day 4: The Day I Truly Did Not Give A F*ck

Breakfast
Sausage & Cheddar Breakfast Sandwich: (500 calories)
Chocolate Chunk Cookie: (370 calories)
Venti Mocha Frappuccino: (520 calories)
Lunch
Gingerbread Loaf: (430 calories)


Dinner
Cheese Danish: (320 calories)
Ham & Swiss Panini: (340 calories)
Venti Spiced Root Beer: (160 calories)

Dessert
2 Birthday Cake Pops: (340 calories)


Total Calorie Count: 3,380

Dear Diary, Seeing as roughly 85 percent of Starbucks' food is pure carbohydrates and provides little to no nourishment to my body, I am truly shocked to find that I'm not constipated at all. Instead, it is difficult for me to find a time of the day where I don't have to use the restroom. 
Friends and family note a significant increase in my chattiness about all topics such as videos of dogs eating with human hands, and a song-by-song verbal review of The Pinkprint. By the afternoon I feel absolutely repulsive and avoid people unless I'm waiting in line for Starbucks. I feel bloated and sluggish and feel like I'm being punished for all those years I ate massive bowls of ice cream and never gained a pound. If there is a God, he's trying to smite me for having too many Frappuccinos because I nap twice today and don't fall asleep until around 4am. My sleep schedule and body feel screwed, but I still feel like I could drink a few more shots of espresso and it'll be alright.
topsecretrecipes.com
---
Day 5: The Meltdown
Breakfast
Tall Triple Shot Mocha: (290 calories)
Cheese & Fruit Bistro Box: (480 calories)
Lunch
Protein Bistro Box: (380 calories)
Beef Sausage Croissant (aka a glorified hotdog) : (410 calories)
Tall Cinnamon Dolce Latte: (270 calories)
Dinner
Turkey Rustico Panini: (480 calories)
Outrageous Oatmeal Cookie: (360 calories)
Grande Peppermint Mocha: (440 calories)
Total Calorie Count: 3,110
Retail Cost Of Living A Week Off Of Starbucks:  $ 157.29! 
Dear Diary, I could buy a gym membership at Anytime Fitness for five months with this, I could afford to go on a juice cleanse for a month, I could buy myself a really lovely candle or three super cozy sweaters. 
Cup-clusion
If you research the symptoms of caffeine dependence, by the end of day 5 I clearly had `em all. I always enjoyed a cup or two of coffee before this experiment, and saw it as the best way to start my day. By jumping up to around four cups or more a day, I had shown marked increases in depression and irritability and I looked like an extra in The Walking Dead. After the experiment I vowed to go on a kale salad diet and get to the gym more often, completing my final form which is yoga-doing white girl. It took about a week for my sleep schedule to get back on track and I slowly had to back down on my caffeine intake so I didn't bankrupt myself. 
Eventually, with my pockets far less full than they were at the beginning on this endeavor and my skinny jeans finally able to button again, I understood that Starbucks was more than a status symbol. The Washington Post wrote an article
calling the United States "one nation under buzz"
and summed up the lengths Americans take to stay alert with: "Once upon a time "" say, the 1950s "" there was the standard, 5-ounce cup o' Joe, containing about 70 mg to 100 mg of caffeine. Quaint. In the here and now, the standard 16-ounce cup of
regular Starbucks coffee contains 330 mg
of the same substance." 
Admittedly, most people aren't insane enough to drop $150 on a week of Starbucks, but what is crazier is that there are people who will. Often during my week-long meltdown people in front of me would reload their Starbucks gift cards with upwards of $200 while laughing "maybe this will get me through the month!" I've made peace with the fact that I'll never be able to afford to live the life of a Starbucks junkie. For now I will sit with the rest of the plebeians who Instagram their once-weekly lattes.