Happy Hour
Expectations: You and your coworkers go for a single drink and talk about juicy coworker gossip. Fun is had by all and you save a ton on half-off drinks!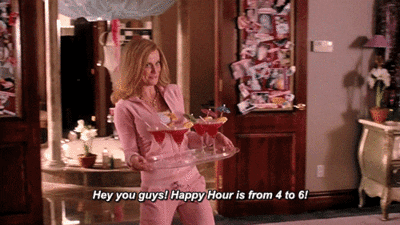 giphy.com
---
Reality: You start off with one vodka cranberry and the next thing you know you're five drinks deep from the bar's BOGO deal and you're crying to your office nemesis about how you feel unappreciated by your boss. You manage to stumble into a cab and get home but the next day even the sound of the copy machine turning on gives you waves of nausea.
Family Gatherings
Expectations: You'll have a drink with dinner and act like the refined, responsible adult you're trying to prove to your family that you are.
Reality: Your grandma starts asking you when you're going to get married and one drink turns into five glasses of red wine before the rolls are served. After your grandpa makes a racist comment about one of your friends you find yourself sneaking shots of whiskey in the bathroom and end up staring at the spinning Leo DiCaprio poster that hung above your bed when you were 12.
---
First Dates
Expectations: You'll go out for a few drinks and have interesting, intelligent conversation because you're a catch, dammit!
giphy.com
---
Reality: You arrive before your date and order a beer to take the edge off. Then when they arrive you decide to order another because they look 12 years older in person than they did in their OkCupid profile. Then you order another because they decide to bring up their nasty breakup halfway through the entrees. Then you order another because at this point you just want to feel bold enough to kiss them to shut them up. Towards the end you sort-of-kind-of end up liking them but you throw up while driving in a cab together and they definitely don't return your call.
Parties 
Expectations: Once you graduate college you never expect to be at house parties unless they're bridal showers or housewarmings and everything will be classy and there will be hors d'oeuvres.
Reality: You sip on a single, warm PBR all night while you watch children you're old enough to babysit cry in corners and do keg stands. You'll want to drink more to numb the reality of your fading youth, but all the liquor here will be so cheap and awful you'll refrain and that feels a lot like progression to you.
giphy.com

---
Wine Nights
Expectations: All your friends will come over dressed like the cast of Mad Men and you'll sit around and talk politics while eating fancy gouda cheese off of crackers and open up bottles of wine that cost roughly a 1/5th of your rent.
Reality: It's just you, your $3 bottle of Trader Joe's Wine, your cat, and three seasons of The Real Housewives Of Atlanta. Halfway through your bottle, you find yourself Facebook stalking your ex and crying into your cat's fur.
---